Oudtshoorn is a nice town in the Klein Karoo region of South Africa and a great place to visit on the Garden Route. At Convoy Tours we like to spend a day here visiting the sights such as the Cango Caves and the Cango Ostrich farm. A lot of people think of the Garden Route as the coastal drive between Cape Town and Tsitsikamma and that's true, it is but to reach Oudtshoorn you have to travel inland, heading north east for 5 hours. Fair enough, South Africa is a big country and some time in the bus is too be expected but why bother when if you head due east you can reach Mossel Bay faster? also not everyone is that that bothered about Caves and Ostrich, well I get that, although I think Ostrich are great it doesn't mean you have to, but as someone who has run hundreds of Garden Route tours, I think missing Oudtshoorn would be a mistake, here are a few reasons why
1, Route 62
Route 62 is a magnificent drive through the Klein Karoo where you get to travel through some spectacular mountain passes and enjoy the stunning Swartberg Mountains. On the way there are hidden waterfalls, spectacular views and great places to stop for lunch such as the Country Pumpkin in Barrydale. There is a lot of history as well, if you like that sort of thing and the big open spaces and big sky make you feel you are really in Africa. There is also the world famous Ronnie's if you fancy an Ice cold beer and the semi arid country is a great contrast to the rest of the trip.
2. The Cango Caves
The Cango Caves are really interesting and hundreds of millions of years in the making. Discovered in 1780 by a local farmer named Jacobus Van Zyl, the 1 hour fully guiled tour is very interesting and you learn all about the history of the caves, how they were formed and the history of the people who used to live there. It's not at all claustrophobic as the tour is only an hour long, it's not a big commitment if you're one of those people who don't really give a rats arse about caves, I rate this tour, I think it's really good and well worth a visit. There is also a adventure tour with narrow tunnel's you have climb through for the more adventurous although there is a size restriction on this so if you're 'big boned' you may not be able to take part because years ago a lady who was 'retaining water' got her ass stuck down there for 4 hours.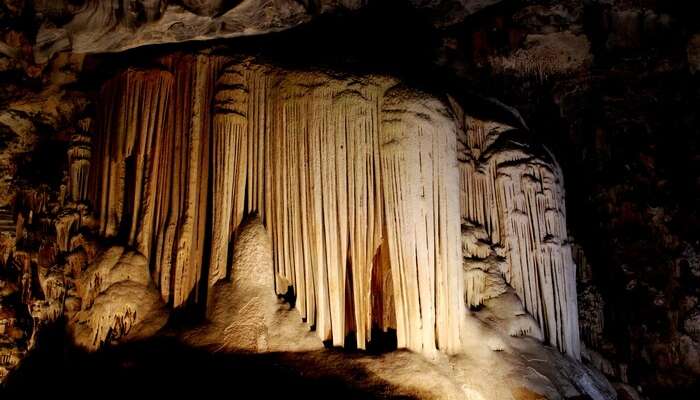 3. The Ostrich Farm
Ostrich are great, I could list a ton of reasons why but why ruin the surprise. You used to be able to ride them but that was stopped due to 'people living with obesity' sitting on them. Now we just learn all about these fascinating creatures from some really great guides. At 45 mins long the tour is the perfect length and once done, you will discover a new found respect for these magnificent animals that you can contemplate while you eat one later for dinner. What's not to like?
Amazing Ostrich
So there is just a few reason's why I love Oudtshoorn and why I think it would be a shame to miss it. it is a lovely town full of lovely friendly people and a great experience
For more information on the Garden Route then please check out the link here
https://www.convoytours.co.za/tours.html
Chat soon
Peace
Your Pal
Rob